A Restoration Project for the 21st Century
This site provides information about the completed restoration project and also the history of St Bartholomew's (Formerly known as Layston Church) in Buntingford, Hertfordshire.

The church has been fully restored and is now a private residence. The exterior of the building and grounds have been landscaped to visually appear as far as possible like a normal churchyard.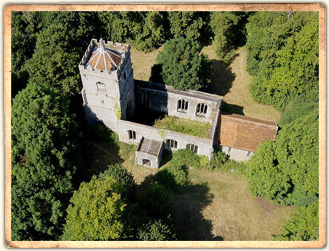 The internal space provides living accommodation thus ensuring the wellbeing of the building by providing it with a permanent caretaker and guardian - albeit an ever changing one through the years.
Recent additions to this site :-
Postcards from Buntingford & Layston, The Mystery Painter, J C buckler drawings, Hertfordshire Maps, Postcards from Buntingford & Layston, Penelope Forester - 1774, Agnes Forester - 1762, William Butt - 1806, Elizabeth Crouch Cowell - 1832, Elizabeth Scott - 1582, Catersby Freeman - 1742, Fanny Doo - 1819, Ann Doo - 1842, Thomas Doo - 1813, Architects Report - 1988, Anne Slatholme - 1678, Rev Ralph Freman - 1772, John Scott - 1579, Ogilby London to Barwick strip map 1675, William Freeman - 1623, Mary Doo - 1769, Ozell Pitts - 1796, John Crowch - 1671, Pike Crowch - 1712, Dame Elizabeth Jones - 1634, Sir Edward Barkham - 1667, William Butt - 1841, Bromsall Crouch - 1735, John Crouch Act of Parliament to change name to Pyke, George Pyke - 1780