Mystery Painter
1853 to 1863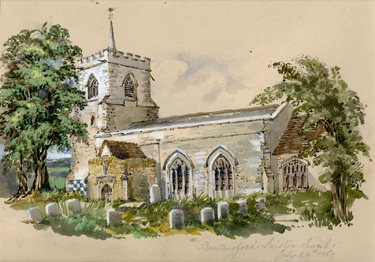 Sometime ago we came across this watercolor in an antiques shop in London, it's about the size of a piece of A4 paper and is a pencil drawing that's been water colored in.
There is a massive amount of artistic license going on here, for example the checker boarding at the base of the tower is clearly visible in the picture but in reality it is much smaller. Regardless, it's a delightful find.
It's dated as 24th July 1863 and described as 'Buntingford Laiston church' but there is no signature or name on the picture.
You can click on the image for a larger version of the picture or you can click here to see the picture in great detail.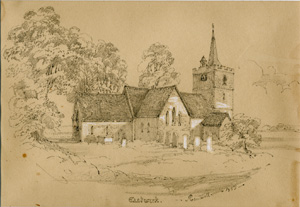 Now this picture came with another picture that appears to be the same style and possibly the same hand, but it's just a pencil drawing of Eastwick Church, with only the beginnings of some watercolour infill. Eastwick church is only 20 miles from St Bartholomew's.
It's also dated ten years earlier in 1853, but the really interesting part is that it's signed - either Rantwell or Kantwell or something similar - you have a look and decide for yourself.

If you have any idea of the history of either of these pictures then please
get in touch by email with us as we would love to know more about them.