Maps of Hertfordshire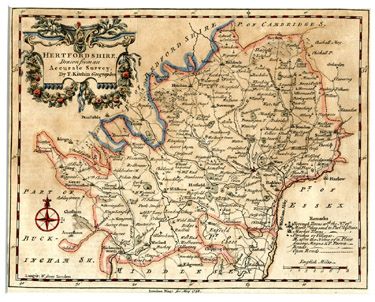 Thomas Kitchin produced not only maps of all the countries of the world, but also the English and Welsh Counties. He contributed to numerous publications including this example from the London magazine in 1748. All were characterised by the attractive small cartouches which as expected is present on this example.
Kitchin worked as an engraver and publisher at The Star in Holborn, London. He was an proficient engraver and produced a wide range of books on a variety of subjects including topographical works.
Kitchin produced a large number of maps of every kind for periodicals such as the London Magazine and for books on history and antiquities. He is best known for his partnership with Emanuel Bowen with whom he published 'The Large English Atlas' which contained the finest county maps of the 18th. Century.
Click here for a full resolution image of his 1748 map of Hertfordshire.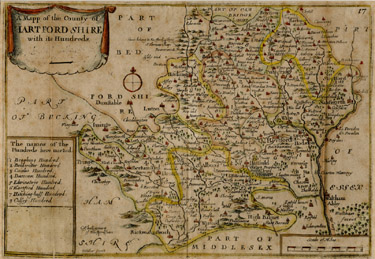 Richard Blome was born in 1635 and died in 1705, from 1660 until his death he was active as a map maker, book seller but mostly a publisher of illustrated books in post-restoration London.
Not only was his output varied in terms of subject and quality, but his career also gives insight into the nature and activities of the London map and print trade of the period.
He appears to have generated a reputation for theft In 1696, Bishop William Nicholson described the Blome's Britannia as "a most notorious piece of theft out of Camden and Speed..."
Click here for a full resolution image of his 1700 map of Hertfordshire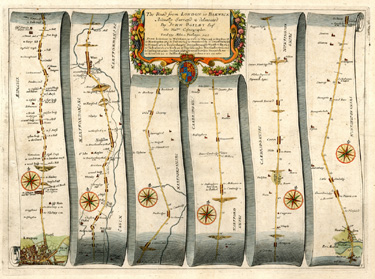 John Ogilby (November 1600 – 4 September 1676) was a Scottish translator, impresario and cartographer. He is known best for his Britannia Atlas of 1675, which was perhaps the first British road atlas, and set the standard for those that followed for example, in the use of 1760 yards for the mile, which was not then standard and in his use of the scale of one inch to the mile (1/63360).
His property was destroyed in the Great Fire of London in 1666, but he rebuilt his house in Whitefriars, and set up a printing press, from which he issued many magnificent books, the most important of which were a series of atlases, with engravings and maps by Hollar and others. He styled himself "His Majesty's Cosmographer and Geographic Printer."
Click here for a full resolution image of his London to Barwick strip map.
Charles Smith was a map and globe seller, established around 1800 at 172 Strand, who specialized in maps and atlases of England.
Between 1827 and 1852 the business was carried on by Charles Smith & Son, and from 1853, by William Smith.
A large number of well engraved maps and several fine atlases were published, Charles Smith's maps are very distinctive, characterised by their lucid, fine engraving and vibrant colour washes making them both attractive and informative.
His major publication was his "New General Atlas" which he first published in 1818. He also published a "New English Atlas" in 1804, which was reissued many times through to 1864.
Click here for a full resolution image of his Jan 1808 map of Hertfordshire