Robert Wogdon
Reprinted by kind permission of the Civic Society and Mrs Plumb the widow of the author
of the original article Mr Philip Plumb published in the Buntingford Journal in July 2002.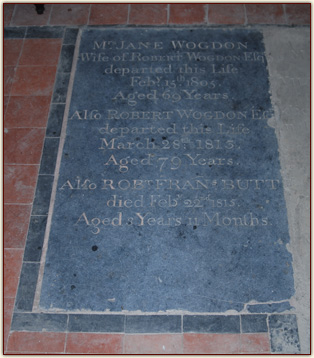 Buried, together with his wife, in the chancel of Layston Church is a man whose life long work resulted in many other men suffering a violent and sudden death. Robert Wogdon was a gunmaker whose career spanned over 50 years. His speciality was duelling pistols and his skill at making them was regarded with a great deal of awe. His name was a byword for quality and effectiveness during his lifetime and, says J.A.Atkinson, author of British Duelling Pistols, his name is even more widely known today than in his lifetime. His pistols are greatly cherished by collectors and enquiries about his grave at Layston have come from all over the world. Yet until Atkinson did much original research into Wogdon's life, very little was known of him.

Duelling has its origins in ancient history. Trial by Battle, introduced at the Norman Conquest, was a forerunner of this method of settling disputes or matters of honour by fighting with appropriate weapons. Death to one of the participants was the usual result although a fatal outcome was not always inevitable. In Prussian duels a wound to the face was sufficient to discharge the cause of the duel. Throughout much of history the small sword was the favoured weapon but in the eighteenth century the use of pistols became more common. Even with such a deadly weapon, satisfaction could be obtained by "winging" the opponent, necessitating the presence of a doctor at the duel as well as the supporters of both duellists. In most societies up to the seventeenth century, the winner of a fatal duel was not tried for murder but in 1679, a royal proclamation denied pardon to anyone who killed another in a duel.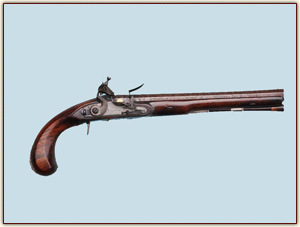 By 1820, guidance to justices of the peace stated that in the case of a sudden falling out between two people who agree to each fetch a weapon and fight there and then, should one be killed, the other would not be charged with murder. However, should there be deliberation and they then fought later that day, or perhaps the next day, it would be murder. Then the seconds, or supporters, of the killer would also be guilty of murder and the seconds of the slain man would be guilty as accessories.

The Wogdon family originated in Newark but Robert Wogdon's father, John, moved to Grantham, where he set up as a saddler. Robert was baptised on 15th January 1734 in St. Wulfram's Church, Grantham, and married his cousin, Jane Holmes, of Newark, on 16th October, 1766. In between, he had served an apprenticeship as a gunmaker with Edward Newton, of Grantham, one of the best of the provincial gunsmiths. The apprenticeship was for seven years from 21st December, 1748. Newton produced a very wide range of firearms and Wogdon had an excellent training which he put to good use.