Robert Wogdon cont...
Reprinted by kind permission of the Civic Society and Mrs Plumb the widow of the author
of the original article Mr Philip Plumb published in the Buntingford Journal in July 2002.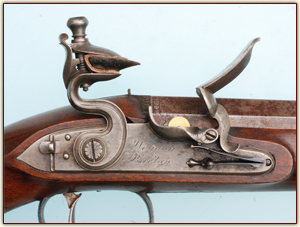 Wogdon took into partnership around 1790 John Barton, another gunmaker who had previously worked on his own, and who carried on the business when Wogdon retired, probably purchasing it for the sum of £950 which was still owing on Wogdon's death.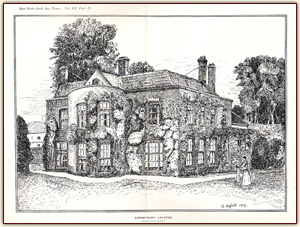 In December, 1801, Wogdon, like many other wealthy London businessmen before him such as the Freeman brothers (Aspenden Hall); John Crouch (Corneybury and Alswick); and Ralph Hawkins (Corneybury); purchased property in the Buntingford area. It was known simply as the Cottage. He chose Buntingford because his daughter Ann had some time previously married William Butt, whose father, also William, was the then Lord of the Manor of Corneybury. When William, senior, died on 17th March 1806, Ann's husband succeeded to the estate. Robert and Jane Wogdon had three grandchildren by Ann: Robert Butt, who died in 1815 aged 3 years II months, and Ann and Jane Butt, who were to inherit Wogdon's considerable wealth which included other property in Hertfordshire, three pieces of land in Nottinghamshire, money invested in stocks and shares and government securities and bonds.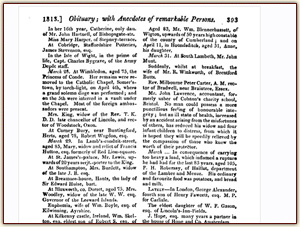 Jane Wogdon did not live long to enjoy their retirement in Buntingford. Her white marble tablet reads: 'This simple Memorial is affectionally inscribed to the Memory of JANE WOGDON, Wife of ROBERT WOGDON of the Cottage, Buntingford, Esqr who departed this Life February 15, 1805 Aged 69 years and is interred near this Place. In Death lamented as in Life beloved.' The second marble tablet reads 'Also Highly Respected ROBERT WOGDON, ESQr who departed this life March the 28th, 1813 Aged 79 years'.

Robert Wogdon, after his wife's death, moved to Corneybury to live with his daughter and her family and The Gentleman's Magazine reported that he died there. As William Butt was the patron of the living of Layston it was his privilege that Robert and Jane should be buried, in the same grave, actually in the church itself. Their infant grandson was buried with them. Ann Butt died in 1816 and is also buried in the church.

Thanks to Sue Rodwell Brooks who became interested in, Robert Wogdon and wrote to the Royal Armouries They directed her to J. A. Atkinson's research which has proved most useful for this article A plaque is being erected by the Buntingford Civic Society to commemorate Robert Wogdon.