Postcards Galore (Part 20)
Martin & Mandy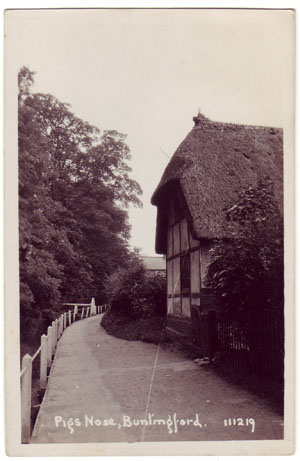 How different it all looks! As you all know we've been interested in St Bartholomew's and in Buntingford for a good few years now, and have collected anything we can find that will give us an insight into the history of both the church and the town.
Postcards have been a big part of this – some have been found in postcard fairs we've visited for the express purpose of tracking down new images of the church, and others have been very kindly donated to our little cache of historical items!
The postcards give just a small snapshot into people's lives – although sometimes they're completely blank and haven't been sent. Mostly you can get little details from them, like the date on the postmark, or the fact that one we have seems to have been written using a dipping ink pen. This particular postcard was marked Jun 26 1906 - now Lewis Waterman patented the first practical fountain pen in 1884, but writing pens that carried their own reservoir of ink had existed for at least 100 years prior to that… So, either our writer just didn't like these new fangled ink pens, or hers was very unreliable, as you can see where the pen begins to run out of ink and where, it appears, she refills it, or just gives it a bit of a shake!
We have a picture of the Pig's Nose to the right – which is where the Reverend Butt was supposed to have wended his unsteady way home one night – that is if his accusers are to be believed...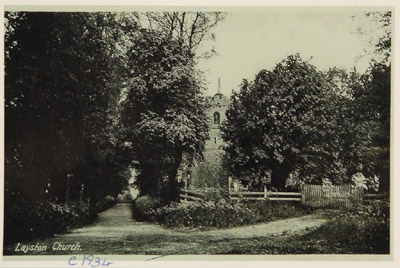 I guess the concrete posts were not there in his day to stop him tumbling in to the river! We also have pictures of the George & Dragon where his preliminary hearing was held. The postcard whose words intrigue me most is also of the Pig's Nose... This was probably posted between 1952 and 1967 – there is no postmark, but the stamp it carries was only available around that time. From what is w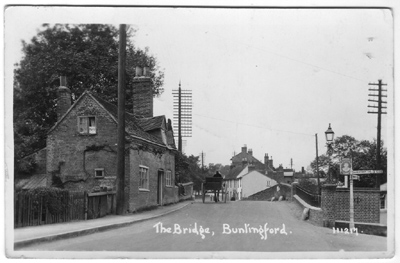 ritten on this card you can deduce that a Sarah & a Carolyn used to live in Buntingford and were visited by Jenny, who told Miss Nic Jarvis of Clacton that Granny Cooper's brother was killed in a car crash. Quite a lot of information to squeeze onto a little postcard!

The postcards of the church show how it's changed over the years and they give us some idea of what we want to get it back to. Some show the graveyard in winter where the trees are stark and the surroundings look very empty – others show summer with all the trees and bushes with their full summer foliage. My favourite I think is the one on the bottom of the previous page which has the white picket fence around the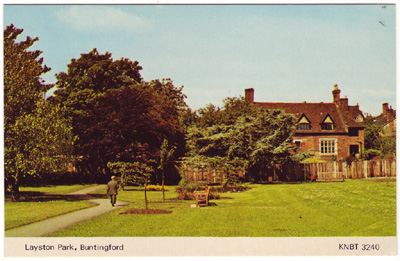 church and the access path from the Causeway – the gate's a bit dodgy and the fence is falling down in the picture, but, with a repaired and painted fence to me it would look exactly how a country church should look!
Buntingford itself hasn't changed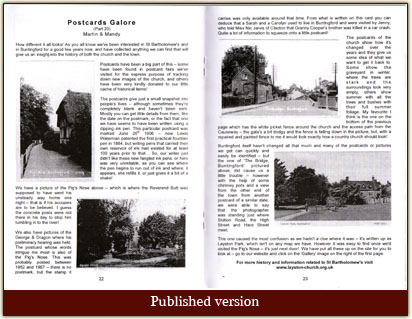 all that much and many of the postcards or pictures we get can quickly and easily be identified – but the one of 'The Bridge, Buntingford' pictured above did cause us a little trouble – however with the help of some chimney pots and a view from the other end of the town from another postcard of a similar date, we were able to say that the photographer was standing just where Station Road, the High Street and Hare Street meet.
This one caused the most confusion as we hadn't a clue where it was – it's written up as Layston Park, which isn't an any map we have. However it was easy to find once we'd visited the Pig's Nose - it's just next door! We have put all these up on the site for you to look at – go to our website and click on the 'Gallery' image on the right of the first page.