Holiday time (Part 50)
Martin & Mandy


Everybody seems to be off on holiday now and we are off to a place called Mousehole right down the bottom of Cornwall. I've always wanted to stay there mainly because of a really nice children's story about a cat but that...is another story.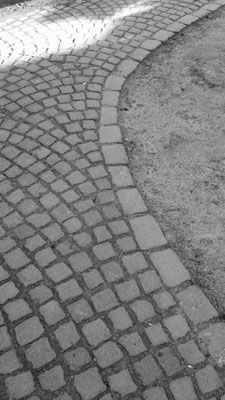 We have just sorted out the planning consent for the paths that will run around the church and up the middle of the lime trees, we want to end up with a Yorkstone path edged with granite sets. We know all about Yorkstone now and so I started looking around for sources of granite. A granite set is a cube of granite normally about 4 inches in each dimension. They exist in the reclaim market and after a bit of looking around it's pretty obvious that the same issues exist with sets as with Yorkstone. Granite is actually much harder than Yorkstone so it's not really like reclaim Yorkstone which has a worn look and feel to it - a new Granite set and an old Granite set look pretty much the same!
Anyway, as luck would have it Cornwall is basically one big lump of granite, so on our way to Mousehole we are going to check out a couple of quarries who can offer Granite sets - I'll let you know how we get on - hopefully there's a bloke called Steve in one of them with his own interesting pet... (This will make sense if you read our previous article about sourcing Yorkstone from Yorkshire!)
We have also been looking at door furniture and such like, handles and locks to you and me. The upstairs part of the building is pretty new in its design and construction but has oak doors made by Mat Rome everywhere. I've always liked Victorian and Georgian locks and door fastenings.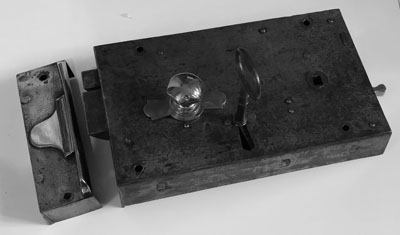 Years ago we visited a National Trust house that was originally owned by a Victorian collector where the whole house did not have a single piece of door furniture that matched - even the hinges on a door would be different - and you know what, it was brilliant. Now I'm not brave enough to get that carried away and my need for symmetry prevents matching doors from having anything other than sets of locks that match, so the hunt is on. Over the years I've been to reclaim fairs and I've seen loads of reclaimed locks, most of which are almost the right thing and after much hunting I find a source that is really good and also really bad all at the same time.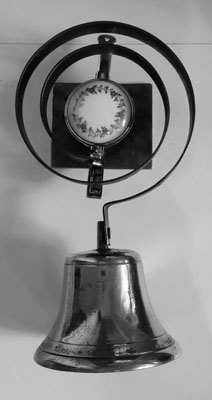 There's this chap called Pete - he and his wife Tina run an antiques shop in Leicestershire which is 200 yards away from a pub that does fabulous lunches. It's an Aladdin's cave with literally hundreds of restored bits and pieces that once were attached to doors in some way. When you start rummaging around you find all sorts of nice items including things that almost match what you're after but not quite, just like all the other reclaim locksmiths I've been to.
You say to him 'Well that's nice but it's not quite right' and he says 'Hang on' and disappears upstairs. A couple of minutes later he is back with an unrestored item that is just what you want, but needs a pile of work done to it. This differentiates Pete from all the other lock places I've ever visited.
Up to now it's been the good bit, now comes the bad bit. Actually getting Pete to do the work in a time frame that's not measured by archaeologists is almost impossible. It's easier to herd elephants with a feather duster than to get Pete to sort out the perfect lock he has for you. Anyway with the help of his wife I persist and eventually over a number of months I manage to get 75% of the things we need out of him. I still have a list and she is working on him, so with luck and some time the rest of the bits will be forthcoming.
Fortunately as the doors are all new we can hide stupidly secure modern locks inside the doors and cover them up with Victorian and Georgian fittings that look particularly good, but sadly are about as secure and effective as that feather duster we used to herd the elephants.
The last thing Pete produced for us was a front door bell, it used to be part of a servants bell system in a large house somewhere and has no technology connected with it at all - it's literally a bell on the end of a copper wire. Makes a heck of a racket and fits in just right with the look and feel of the building.
So we're off on our holiday now, I'll try and bring you back some rock - in fact a few tonnes of granite rock, so watch out for that addition in the summer.
For more history and information related to St Bartholomew's visit www.layston-church.org.uk or follow us on Twitter @layston_herts