Who Needs An Architect? (Part 5)
Martin & Mandy


We do... we have an overall plan that English Heritage and the Church have seen but it's very outline - and we are not really going to get anywhere until we have some professional design help. The problem is how on earth do you go about choosing an architect? We've never had to do this before!
We start by looking for architects who are generally within travelling distance of St Bartholomew's and have a track record of working with listed buildings. There are a number of associations that we look at for pointers to their members, and after much hunting we come down to a list of seven companies, ranging from one man bands to large corporate entities - and so the selection process begins.
My first criteria is can they answer an email - somewhat surprisingly this gets rid of one of the potential companies, yes that's company not one man bands! By now you can see that both Mandy and I are quite into technology - and having an architect that can't send us electronic diagrams is simply not going to work.
Next we visit one of the large London firms, the meeting is very interesting but it has a very corporate feel to it. The main partner who will look after the work and the junior who is going to do the foot work are both in this meeting - they are very keen - they ask when can they start and spend a lot of time explaining the rate card of how they will charge! However we are not fully convinced they are the right people for us.
We decide to try a much smaller company - great track history of listed buildings but he can't tell me what he is going to be doing next week, his business partner wants to retire and he may change direction in the next 18 months - since this project is going to take more than 18 months that's no good to us. Croissants he provided for the meeting are very nice but that's not really a pressing point for choosing him.
We visit three other practices that all have pro's and con's to them and we finally go to visit a two man band practice 'Joyce & Partners' that's the furthest distance from St Bartholomew's of them all. Mandy & I go to visit clutching our scribbled diagrams, the croissants are non-existent - which is good as I'm after an architect not a boulangery owner - and we spend 3 hours or so chatting over all sorts of topics. They have a great track history of listed building work in London and the two chaps are like chalk and cheese.
In the introduction details we sent all the practices we included diagrams of St Bartholomew's along with our Private Treaty proposal. Near the end of the meeting Julian rummages around in the draw of his desk and tells us that he could not resist making a model - out comes his cardboard model based upon the church diagrams with three different options about how to make the roof work. His practice has not even got the contract and he is this keen and clearly wants the work because of the building. We leave the meeting very happy believing we have found our architect. Some negotiation goes on about the way his services would be paid for and then the fly in the ointment is delivered.
A friend of mine who happens to make very interesting photographic art, but that's another story, says have you considered a chap I went to University with who runs a Design practice in North London?
So off we go to visit one last practice, with any luck this one will be like the first six that we visited and there will be something not quite right about them. Unfortunately for us this is not the case - they are a different style of practice but the chap oozes the same passion and enthusiasm that Julian showed us, we spend some hours with him, and we now have two practices that we both like and could work easily with either. What a dilemma.
A couple of weeks go by and Mandy & I keep changing our minds between our two choices but eventually we decide upon Julian's practice and he's delighted when I call to tell him.
So the architect is on board now and we have a couple of meetings with Julian to layout a plan of campaign, we need to work towards a presentation to the Diocese, English Heritage, the estate agents and the conservation officer from Herts Council. It's a slow process but bit by bit we plan and consider the building.
Mandy and I had by now met with the English Heritage person who's looking after St Bartholomew's and we arrive at that meeting full of ideas and expecting trouble since that's what everybody tells you is the case. To our amazement he looks at our plans and has helpful and constructive things to say. He makes us think about some of our ideas more, and encourages us with others. We leave enthused by the meeting, but with his guidance our original submission plan is already changing.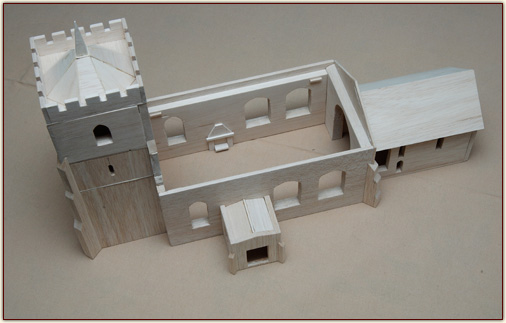 Years ago I was into model making and I suddenly feel the urge again - down to the model shop I go and away I come with £100 worth of balsa wood. I've come to the conclusion that seeing plans on a computer, whilst great is not really as good as a physical model that you can turn around and look at from different angles. A couple of weekends later and I emerge from the garden shed with my 50th scale model of St Bartholomew's as it is now, and though I say it myself I'm quite pleased. Julian likes it a lot and I leave it with him for a week or so while he works on the solutions for the roof and Nave, the model certainly helps solidify ideas and was well worth the effort.
With Julian's provisional plans for the additions to the building I can add to the model and we all work on a presentation for the Diocese and English Heritage. The day of the presentation arrives and literally everybody meets up at Jim May's offices at the Diocese and we spend a morning going over our plans and how they have progressed finalising with unveiling my balsa wood marvel !
We are both woried about the stability of the building from day one, you only have to walk round the site to know that all is not well especially with regard to the North wall of the Nave. We knew from the start that St Bartholomews was falling down but I'm interested to know by how much (I'd like to know how big the black hole into which I'm about to pour money into is or at least have a fair guess) and preferably from a professional so we call in a chap called Brian.
Brian is definalty a character He is 60+ if he is a day, his CV list's more historic buildings than you have had hot dinners and he arrives at 7:30 one morning to meet with us both, he scratches at the stonework of the building and pronounces 'Clunch' - 'What?' I say at this point in time I'm no expert on stone. Clunch Brian repeats, came from one of two quarries - if you let me chip some stone off the building I can tell you which one he says - I decline his kind offer ... he clearly knows more than is healthy about stone work and this is confirmed when he starts listing the buildings he has worked on, I tell him to stop when he tells me about the front of Woborn Abbey. He looks closely at the cracks in the Chancel wall and the Tower and is very non-comital, it's clearly not what he wants to see and the combination of tree to the North wall of the church and the cracks do not please him at all, the best I can get him to say is that we should be wary of these 'features'. He quotes me a number as a guess for the stonework and to fix the cracks and I gulp. Still I knew it wasn't going to be cheap, the building has had more than 100 years to get like this and it was never going to be fixed by Bob the Builder in an afternoon.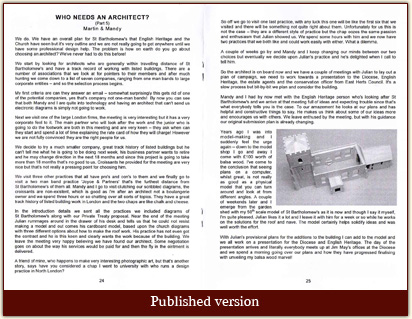 On the more entertaining front our contact at English Heritage is busy and we arrange a site visit between him, the council conservation officer and Graham from English Heritage who is the bell frame man. Graham turns out to be an absolute mine of information and he arrives clutching his powerful torch and an overpowering desire to rummage around in the bell frame, he is initially stumped for a moment or two by the frame work but after some pondering he concludes that we actually have a frame built from an older frame and over the years bits and pieces have been added to try and hold the whole thing together. We have three bells in the frame

We also discover that the Butler's bells in the bell chamber were probably cast in the graveyard - James Butler only ever cast a really small number of bells and he worked principally in Hertfordshire and Essex at his trade. The two Butler bells form just another part of the wonderful history of St Bartholomew's.
Next big thing to know about is stained glass and we hunt around for somebody with a track history - glass painting course