More Windows (Part 48)
Martin & Mandy


Ages ago we told you about Comedy Dave, his bad jokes and this fabulous windows which are all now installed and definitely do the trick. He sorted the main large windows with a red and blue edge trimmed stained glass panel with clear diamonds in the main body of the panels. These cast different colour light across the Nave when the sun comes up and look brilliant. We have three other areas we need to deal with now. The stairs in the tower have three small slit windows that are so small getting stain glass and lead work into them would use up most of the available space. The four windows in the porch which we want to use the same style of windows that are in the Nave but we need to choose something to go in the diamonds as we don't want a completely plain set of windows. We also have two odd shaped windows in the front door to deal with, they are shaped like bananas and go in the top of the door on either side - we have stolen this idea from a church in West Sussex which has this and it really works well and breaks up the door, but we need to get the colours right.
In the past Mandy & I have done stain glass courses in Ludlow and glass fusing courses in Brighton. Fusing is where you pile up sheet glass that's cut to shape on top of each other and then put it in an oven and heat it to eight hundred and something degrees and it all fuses together into one 6mm thick sheet. So I'm looking around trying to find somebody that has a studio we can use and I stumble across Rainbow Glass Studios in North London. There I find a chap that does evening courses in his fully equipped studio and we can turn up and make whatever we fancy. Fusing appears to be the way to do these smaller windows around the church as we can get the maximum amount of glass into the spaces.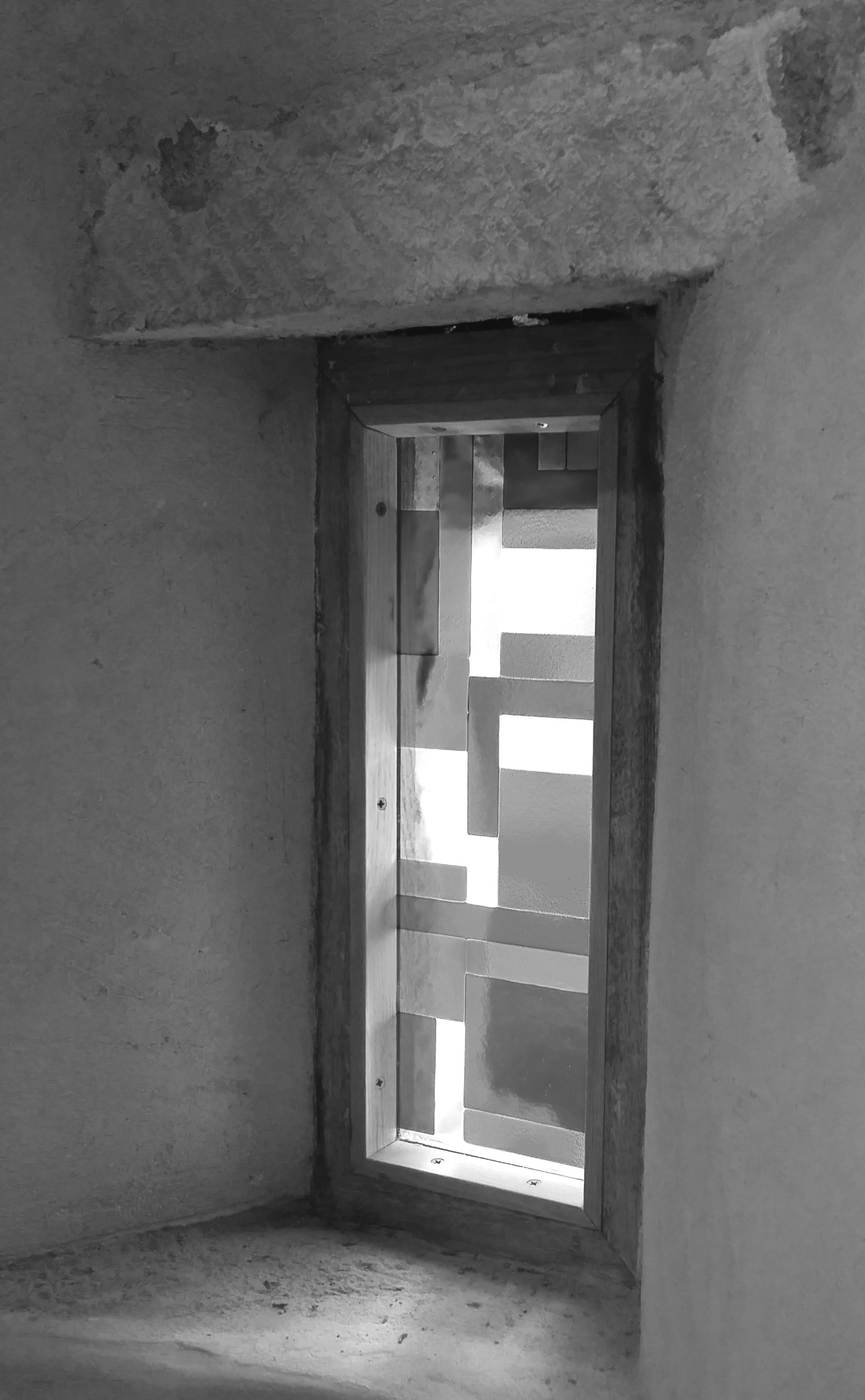 I book us onto the evening course and it turns out to be really good fun, the bloke that runs them is nice - he apparently has stranger music that I own according to Mandy, but what does she know - I arrive with a plan and Mandy arrives with ..... well, deep thought about bowls and stuff and we are off. We now have lots of nice bowls and some windows for the church! Black and white images don't do it justice but you get the idea - the panel is made up of blue, red and yellow blocks that cast all these colours across the stairwell as the sun rises, there is a similar smaller one and one which has wavy lines in blue and red with the outline of the tower cut into the back of it. All of them catch the light and throw colour over the lime wash walls on the stairwell, so that's basically a success.
The front door is a bit harder to sort out, I try a design with dark blue and red but it's a bit of a disaster - the joints between the colours have white marks as a result of how the fusing works on dark colours and I manage to make the windows but I don't really like them. Mandy comes up with lighter colours and they look good but not as good as dark blue and red so the jury is out on the front door at the moment. I suspect I will try again with dark colours and hope I can make it work without white lines. If that does not work then I'll resort to leadwork and a stain glass window.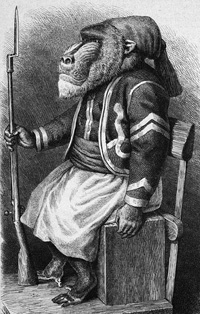 In the mean time Comedy Dave has come up with the layout for the porch windows and we decide between us all that we need 20 images, five on each window randomly scattered in the diamonds which will give the windows some interesting features. Now we just have to decide on the images. Mandy is into bees so that's a good start, and Dave knows how I like odd things, so next thing we know he has got Alex, one of his chaps, to test out some images on diamonds and send them down and we have bee's, bee hives - both old and new - cockatoos with wheelbarrows, and a bird carrying a fish!
This sets me going, I really like Hieronymus Bosch pictures - they are so full of really weird and interesting creatures - in my eyes there's got to be something there worth using as inspiration. I don't want the Garden of Heavenly Delights all over the porch and I have yet to convince Mandy that something quite this odd will look right in the porch windows when used in a controlled and subdued way, but there's still hope.
During my research for these windows I also trip over a really cool monkey warrior drawn by a German 1800's illustrator called Heinrich Leutemann. He mostly did zoological drawings and children's books, but he must have had a sense of humour as well. With all these ideas from us I think Alex has his work cut out to dream up some simple line drawings to go on the diamonds, we shall just have to wait and see. Below you can see some of the ones that Mandy has agreed to: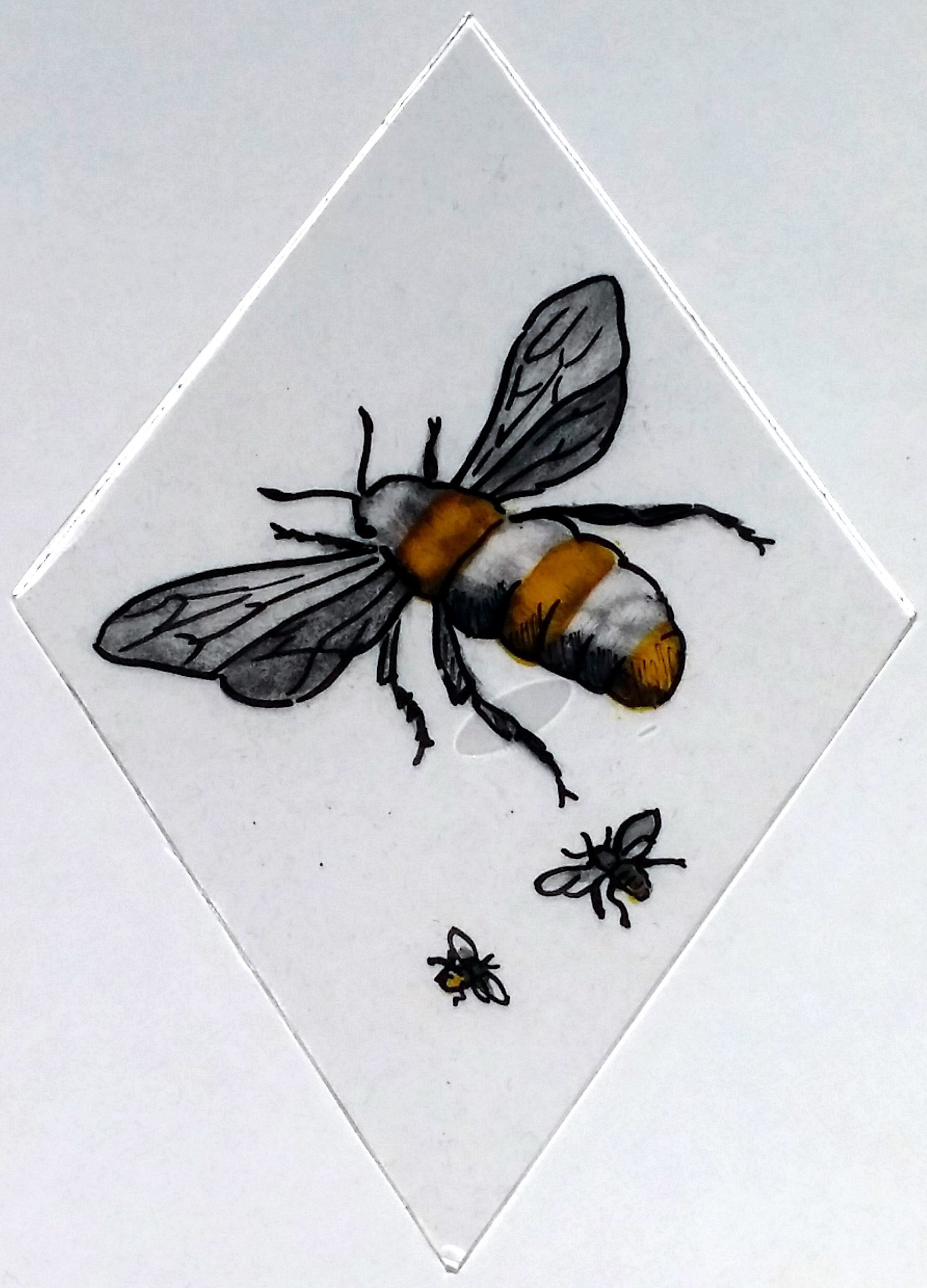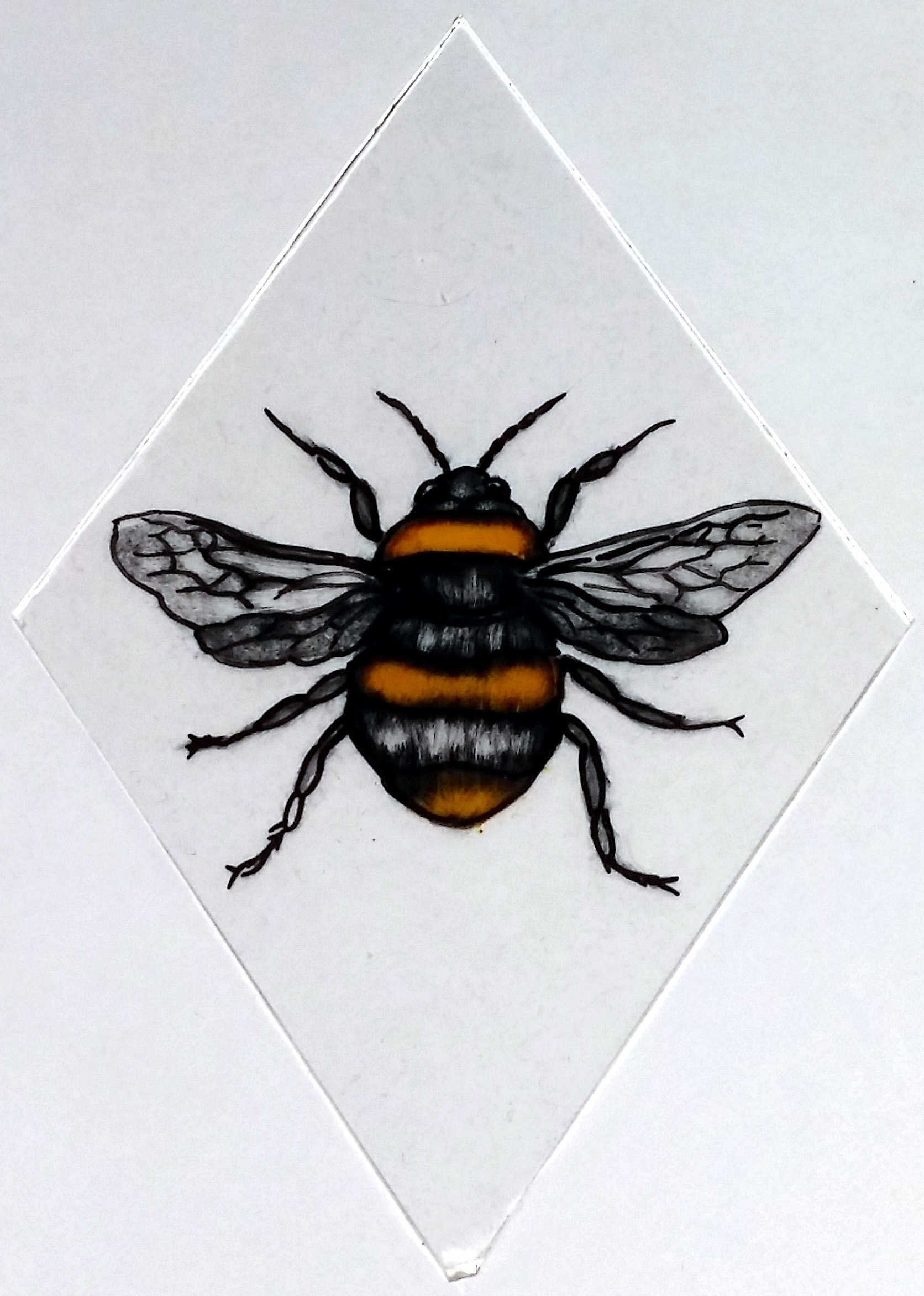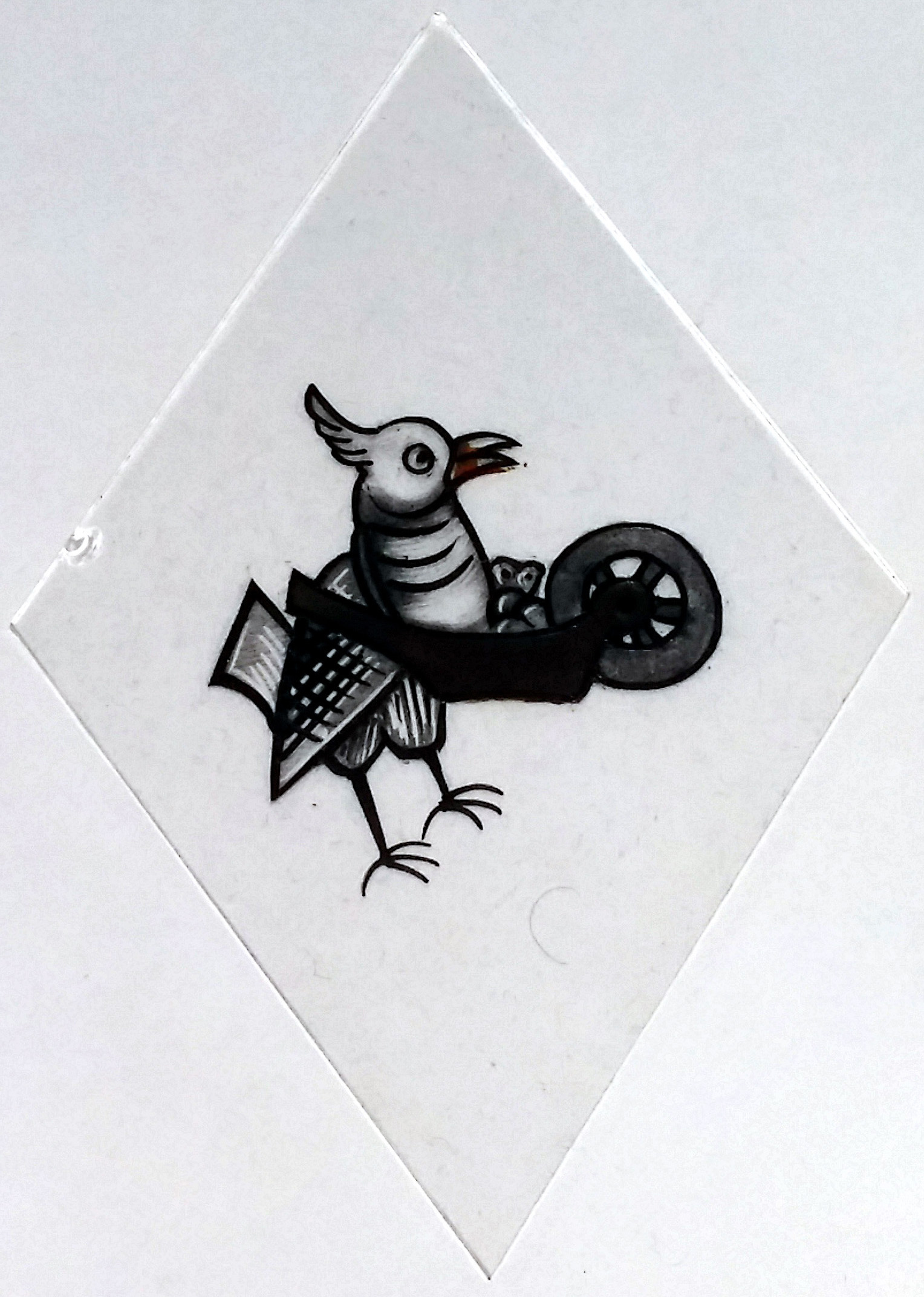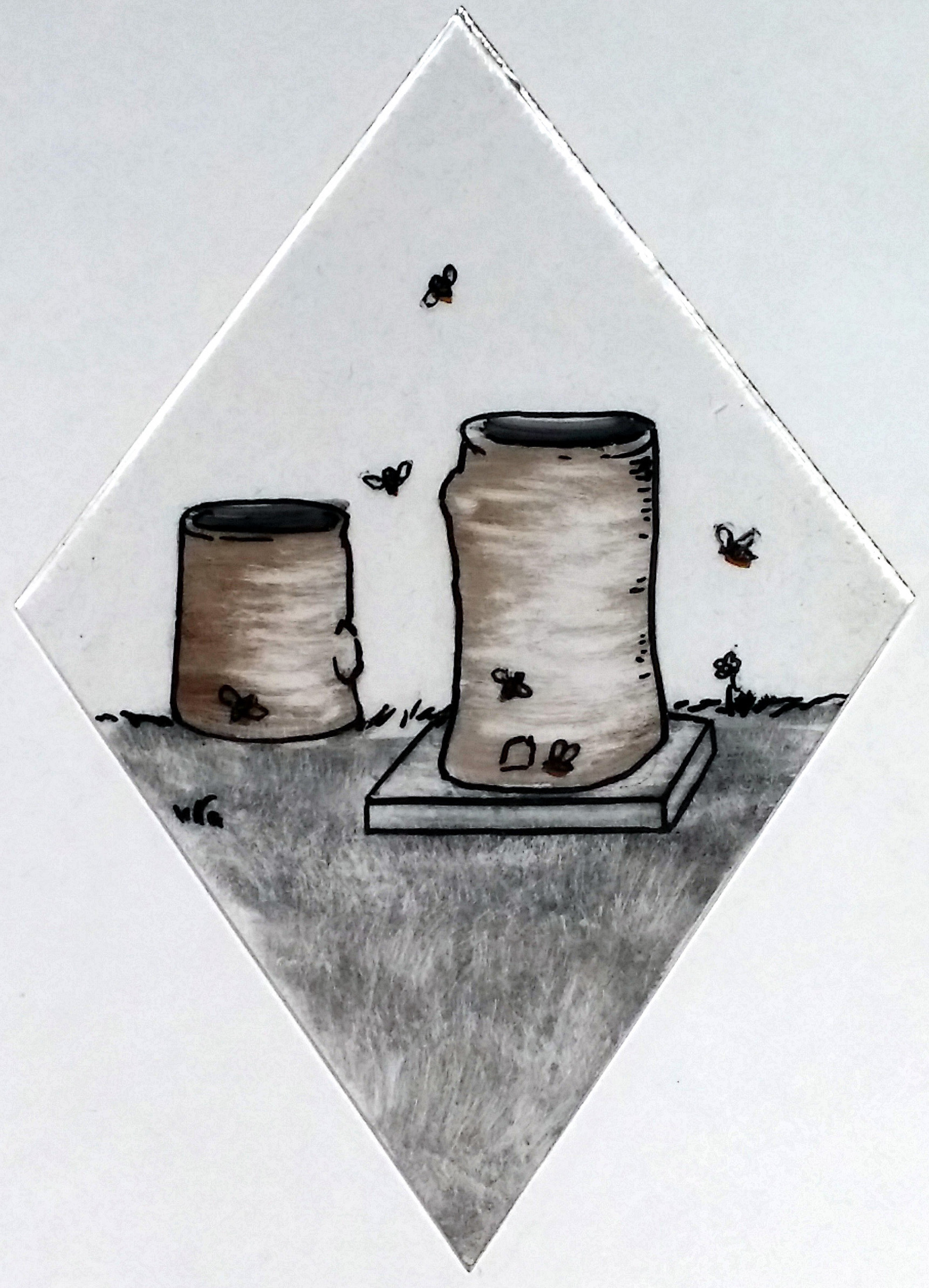 For more history and information related to St Bartholomew's visit www.layston-church.org.uk or follow us on Twitter @layston_herts