Decoration (Part 46)
Martin & Mandy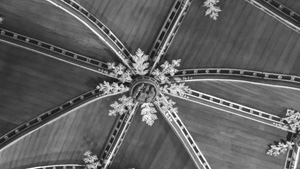 So, how do you go about decorating a church that's about to become a home? I have to confess that I'm not that great at interior design. When we moved into our current house I stripped all the wallpaper off and painted the entire place white, planning on doing one room at a time at our leisure. So far we've not been that successful – we've only done two (more if you count the bathrooms), the bedroom and the living room. The bedroom was the first one I did and that was carefully planned with feature wall paper on one wall and carefully chosen pictures.
The living room was also carefully planned – reds and golds – based around the picture frames we had on the pictures of the church funnily enough! The living room was not highly successful – we've had two floods through the ceiling from leaking pipes on the shower, and a damp patch coming through the wall from a bizarre piece of metalwork that's sticking out of the wall outside and seems to be acting as a funnel for rain to pour in. Because of this I've never really finished the living room off – all this has taken us eight years in total, so from this you can gather that we're not the best people to take on interior decoration.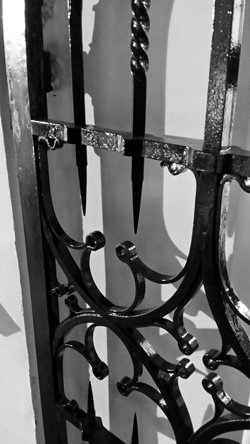 Now that we've got a roof and windows we really do need to start thinking about décor as it won't be long before we need to make some fundamental decisions about it. For instance the ceiling of the nave is currently being constructed and the carpenters are working on a scaffold deck which allows them to reach it… I really need to have decided the ceiling colour, trims, and sort out where fire sensors and lights are going to go before that scaffold comes down. In light of this I decided for this years' holiday I needed to drag Martin off to Bruges to visit some churches.
We found some fabulous things in a city peppered with churches, but it also highlighted some conservation issues. For instance, in the Church of the Holy Blood there are two chapels – the one which contains the relic, which is hugely ornate with murals, painted stone, patterned walls, gold leafing, beautiful wood carvings and some seriously impressive metal work, including candelabras and wrought iron gates – the other just stone, simple and plain. This shows the difference between rich and poor! If you were rich enough you got to praise God in beauty and elegance, if not, then yours was simpler fare! This tells us where to aim with our little church. At one time the patrons were fairly wealthy well to do people, so there would have been some flamboyant touches (although not a patch on some we've seen in Bruges) but mostly I feel we should be aiming for the simpler look.
The most interesting thing from the conservation point of view was the memorials there – these had all been cared for over the years and looked old but lovely… I think further discussion with our conservation officer is required for us to decide how far to take the cleaning and 'restoration' of the memorials in the chancel. My view is to gently clean and restore them to the state where they don't look like they have been more or less neglected for the last sixty odd years – but definitely not to scrub them up so they look like new. We know we cannot leave them as they are as they will deteriorate further if we do.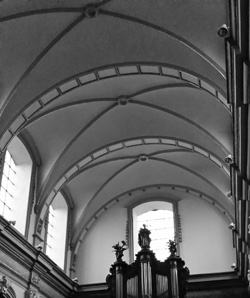 The ceilings in the churches we saw were real eye openers – they generally didn't have the dark wood that you sometimes find in English churches but they had one of two things (both if it was a really rich congregation) – painted beams or painted panels… The painting on the beams took the form of gold leafing and coloured stripes of some form – and the panels if the were painted were nearly always light blue – which is the colour I had chosen for our own Nave ceiling, so it was nice to see how well it worked! I loved some of the ceiling bosses we saw – and we will definitely need to do something like this as we need to hide a few essentials in there. Building control nowadays are pretty keen that if the place is in danger of burning down that the people have a chance to escape, so you now need smoke detectors and fire suppression systems, which is essentially quite reasonable – but not very pretty or authentic looking – so these will need to be hidden inside some pretty nifty bits of plaster or carving work.
It's a shame this journal is published in black and white as I have some stunning pictures I could share with you – but this article is not really meant to be about my holiday snaps – so I hope the few that I have chosen highlight some of the things we saw that are relevant to our future decorating plans.
For more history and information related to St Bartholomew's visit www.layston-church.org.uk or follow us on Twitter @layston_herts