From then to now (Part 43)
Martin & Mandy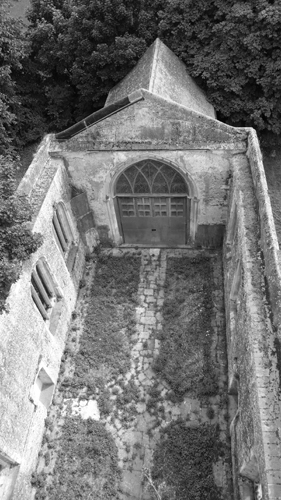 If I dig deep enough in my email systems I can find emails dated as far back as 2007 relating to St Bartholomew's and actually a few other buildings we looked at in similar states of dis-repair. It would have been great to be able to help all of them but time only really allows for one.
The first picture here was taken from a cherry picker before we had even completed the purchase from the Diocese; we were deep in the throws of submitting plans and all sorts of other paperwork just to get to a stage where we could buy the building. We then had all the fun of planning submissions and local town council meetings and district council meetings to deal with, and at the time they were quite an experience - good experience as it happens for the comedy that is the present 'planning' being inflicted upon Buntingford.
Once we owned the building we had our own personal time team of archeaologists noodling for weeks and uncovering even more history for us, adding to all the secrets we had already discovered. We eventually ended up with a selection of craftsmen who have helped us stabilise and restore the fabric of the building and allow us to blend the new with the old in a way that not all might approve of, but that will certainly provide the building with another 300 years of life. The gable end wall on this page does not look unstable but you could have pushed it over by leaning on it and not much more. Getting the North wall of the Nave into a situation where it was not full of holes was also a bit of a task that proved more than a challenge to achieve but we got there. We have managed to maintain just about every historical feature of the building that remained, and the items like the south windows that were past saving we have replaced in a sympathetic form that is visible as new work but yet still blends into the building. On a number of occasions we have had to change our plans as we uncovered 'features', the rood screen staircase and archway is a case in point. We have been able to rid the building of concrete and accommodate the new finds - it would be insane to undertake this kind of project and not be flexible to things you find on the journey. The new build part of the project on the top of the Nave changed as it was built and on occasions looks far too big or completely the wrong colour, but with the help of Sarah the conservation officer at the council we ended up with the right materials and colours in place and whilst it's never going to disappear it does look right. Weather has always been an issue on the project and for some reason we ended up with the work of the crane to lift the roof into place being completed in early winter but with careful planning and a spot of luck we even got away with this. A couple of weeks ago, we managed to get the whole building water tight, both of us really felt we had hit a major milestone. We have spent literally years getting to this stage and whilst we only have the bare fabric of a building, it is dry. Not a moment too soon!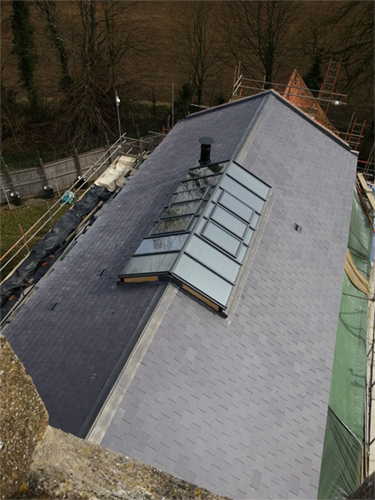 Initially we looked far and wide to find the right people to work with us on the project, I remember going to Norfolk to visit steel fabricators who could build me a set of stairs. In reality all the people we have used have pretty much been within 10 miles of the site and they have all produced stunning work - there really is little need to travel far and most of them advertise in this journal. Perhaps one of the nicest surprises to this project is that over the five years we have seen the changing seasons up the Causeway and how nature delivers gifts to anybody who cares to open their eyes and ears. In 2008 I had no idea what a Tree Creeper looked like let alone sounded like and it's all 5 mins walk from the centre of Buntingford. I'd also never seen a bat but after a bit of a false start with an ecologist we found Stuart and Matthew who actually explained what was going on why the hedge line was that important to a bat and how we could help them. I grant you Nuthatches like the bat boxes better than the bats do, but we have maintained and even improved the environment for all of these creatures, trees and plants during the project. Time moves on and we now see the Government trying to rescue the economy with the house building stick, the district planners demonstrating their inability to actually 'plan' any kind of development in Buntingford and the local people despite vocal objections from all corners are being left to suffer the circling vultures in the guise of an ever growing number of developers with money to force their plans on the town for profit and nothing else. Still life goes on all around us, the Tree Creeper will continue to creep until it's tree is cut down to allow an access road to be built and the bats will continue to fly until their hedgerow is removed and they can't navigate by it any more. The last task we will need to undertake will be to complete the landscaping around the building and get back to a nature filled small corner of England and remove the hoarding that's cloaked St Bartholomew's for the last few years. We still have a pile of work ahead of us and whenever people have asked when we will be moving in we have always said 18 months - in fact it's a standing joke - however it might just be the right answer now.
For more history and information related to St Bartholomew's visit www.layston-church.org.uk or follow us on Twitter @layston_herts