Captain Morgan was a Pirate Dude prt #2(Part 27)
Mandy & Martin



Following on from last month; in the year following his wife's death, Roger was promoted to Captain and he took the Grantham back to the East. He returned to England in 1738 where, after four years without a wife, he remarried. Francis Maynard and Captain Roger Hale were married on the 25th April 1738 at St Dunstan in the West, London.
Our Captain Roger Hale was involved with the East India Company before they began meddling in the government of countries, before Clive of India, or the Boston Tea Party, and appears to have led a remarkably well travelled, but uneventful life, up until now.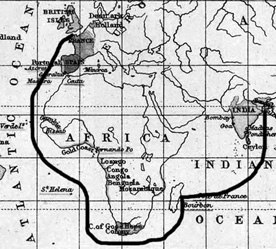 Unfortunately in 1744, on what was to be Roger's final voyage, (the route of which you can see in this map from the time) the Grantham encountered a bad storm off the coast of Folkestone.
The ship was lost, so close to home, along with her entire cargo of pepper from the east. The Daily Advertiser of Saturday Feb 29th 1744 reports this as follows: " Yesterday Morning the East India Company receiv'd the disagreeable News, that the Grantham, Capt. Hale homeward-bound from Bengal and Bencoolen was lost in the violent Storm last Tuesday Night off Folkstone. She is beat to Pieces, tho' the People, all but one Boy, had the good Fortune to save their Lives. The Chief Mate lost one of his Eyes, in attempting to fire a Gun as a signal of Distress." The London Evening post states that two men were lost overboard, so perhaps that news had not been known when the Daily Advertiser was published… Roger retired following this devastating loss of both his ship and some of his crew. He passed away just a few years later.
His will leaves the majority of his fortune to his wife Frances with money also going to his sister Elizabeth Furness and her daughter Sarah Furness. It appears that Roger had no children from either of his marriages, probably due to all that time spent at sea!
So there's what I know of Roger's history – but none of this explains why Frances chose to bury him with his first wife Catherine in Layston Church. For that we have to go back to the records we have already built up surrounding the family histories weaved through the ages surrounding St Bartholomew's.
So firstly let's look at Roger's will, which was transcribed some time ago when we were looking at other members of the family…. The executors of his will were his wife Frances Hale and the "Reverend John Maryon of White Rooden in Essex". (One of the witnesses was "Jno Vaughan" – I wonder if this Mr Vaughan has any links with Elizabeth Vaughan's family? Research for another time!)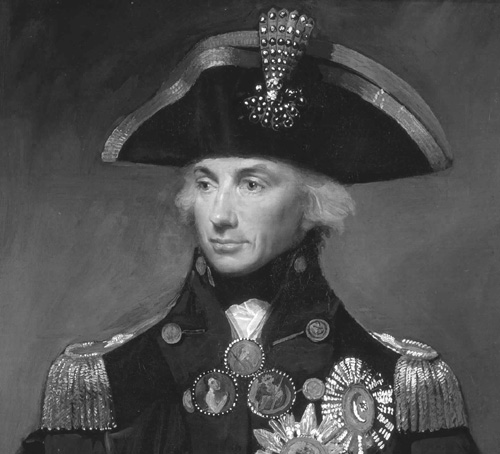 As Frances was living in London, and the Rev John was in Essex, it still seems strange that Roger was buried in Layston, so far from his home and that of either of his executors.

Now comes the rather interesting part – in rechecking family names that have been researched as part of the Layston Memorial descendants search, I find something that is very intriguing and may provide the answers.
The only reference to the Hale surname is in the History of Hertfordshire by Chauncy where he makes a chance mention of the name "John Hale". This John Hale married Mary Crouch, the daughter of John Crouch and Margaret Johnson of Corneybury Layston. Possibly the marriage date was 29th June 1681 but that's unconfirmed (we like to find at least two sources of information before we accept something to be true). If this date is correct, Mary would have been at least 38 at the time of marriage and therefore not likely to have had many, if any, children. Although I can find no record of them having children I believe that it's highly likely they had at least two – Roger Hale and of course his sister Elizabeth Hale, who went on to be the Elizabeth Furness mentioned in his will.
Mary Crouch married John Hale in 1681 as previously stated. I assumed that both Mary & John died relatively young and having rechecked the Parish Registers from Layston I find in 1705 "Mrs Mary Hale Widow of St James Westminster Middlesex was buried Nov 10" Therefore John Hale had predeceased her - leaving the two Hale children, Elizabeth and Roger, alone in the world except for their mother's family in Layston.
It would also answer the question of why Rev John Maryon was one of the executors of Roger's will. The good Reverend was married to Roger's cousin Margaret Crouch. As Mary Crouch and John Hale (parents of Roger Hale and his sister Elizabeth) died early, the most likely family members to nurture the two children would have been the Crouch family in Layston – which would be why Roger was buried in St Bartholomew's Layston… it was his home church.
All this leads to only one conclusion - Captain Roger Hale was the great grandson of the original John Crouch whose memorial is in the Chancel!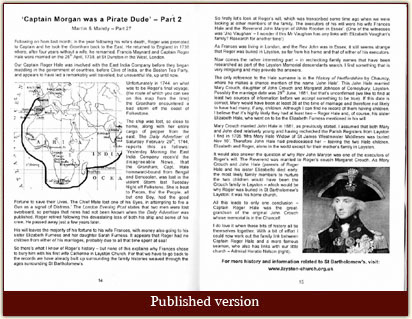 I do love it when these bits of history all tie themselves together – with a bit of effort I could now work out the family link between our Captain Roger Hale and a rather more famous seaman, who also has links with our little church – Admiral Horatio Nelson.

Although he returned home at various intervals during the following years, it appears that he spent most of his married life at sea. It is sad to think that he may have been at sea when he received word that his wife had passed away.
Catherine was buried at St Bartholomew's Church Layston on the 29th July 1734 where the parish records (in very neat handwriting) report her to be the wife of Mr Roger of St Botolph's Aldgate. Yet another link to Layston when obviously they were London residents. Next month find out what became of our Captain - and why he ended up back in St Bartholomew's with his first wife, Catherine.