A Life on the Ocean Wave (Part 10)
Martin & Mandy


So we have been trying to find an actual images of the people mentioned on the memorials in the chancel since we started this project, and it's proved really rather difficult, especially if you want it to be an image of somebody right from the beginning. Unsurprisingly really, what with cameras being a recent invention and back in 1600 oil paintings being a stupidly expensive thing. Anyway not being easily disheartened we start with the John Crowch memorial, no sign of any images of John or his wife Joan but we have high hopes of his five daughters and five sons.
Their daughter Joan married Ralph Freman and if you visit St Mary's in Aspenden you can see a wall memorial to him and his brother who were both well to do business men in their day, but they are not from St Bartholomew's so they don't really count.
Another daughter Margaret Crowch married Henry Montagu, children from his first marriage fought in the civil wars and were active in Parliament - as such lots of pictures of Henry but none of Margaret. Henry is mentioned on the memorial but it's not quite the target we are after.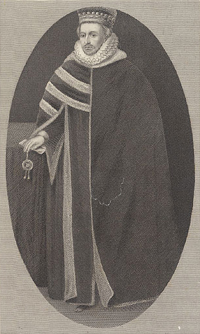 Not to be outdone his brother Edward Montagu married Margaret's sister Ann Crowch, we keep finding this over the generations - brothers married sisters, it's almost like one couple meet and over Sunday lunch the other brothers and sisters meet and pair up as well. Regardless lots of pictures of the men and none of the women.
So we move on, another one of the sisters is Jane Crowch who marries Edward Barkham in St Bartholomew's in 1589, and they then proceed to have lots of children. Busy as Edward was he managed to be Lord Mayor of London in 1622 but finding an image seems to be the best part of impossible. Anyway we track down his will and a rip roaring document it is too, it's on the web site in full, he clearly made a bob or two and all the usual suspects get their share.
At the start of his will he asks to be laid to rest in St George's at South Acre in Norfolk in the part of the church that he paid for, and he'd like a it to be 'without any name pomp or great solemnitie'
So, Norfolk is not that far away and the will is interesting, so one afternoon we type the postcode into the sat nav and off we go.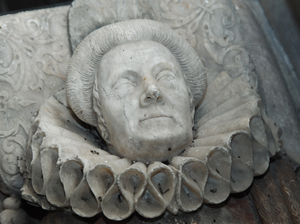 Well 'without any name pomp or great solemnitie' is not how I'd describe the memorial in South Acre for Edward! It's an alabaster epic of biblical proportions, it's got two of their sons kneeling in prayer on the front, along with their three sisters, and Edward is lying right across the top of the memorial and next to him is his wife, Jane. Bingo! we have found a picture, or rather an image, of a person on a memorial in St Bartholomew's - and a woman at that! Spot of luck really, so we start looking at the rest of the Barkham family; never know what else you might find.
In all they had eleven children - their first child was a girl, Elizabeth, born in 1593, and she married a John Garrad. Then followed the first son, unsurprisingly called Edward, and soon after in 1596 followed Susan.
Now Susan married in 1614 and she married Robert Walpole and in 1621 they had a son Edward, they still lived in Norfolk in a place called Houghton about ten miles from where Jane & Edward Barkham lived. Edward Walpole then married Susan Crane and before long Horatio and Robert were born.
Edward & Susan's son Robert Walpole married a lady called Mary Burwell and before you could blink they had nineteen children, amazing really, Mary spent almost all her married life pregnant. Child number five was a boy called Robert Walpole and he should ring a bell, he was born in Aug 1676 and by the time he reached 44 he had become the Chancellor of the Exchequer and subsequently the first Prime Minister of the UK.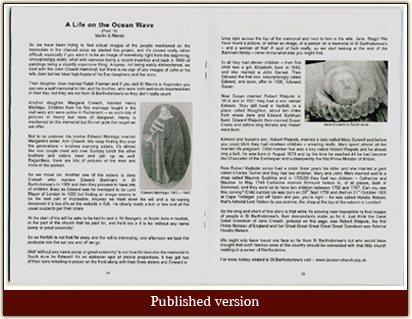 Now Robert Walpole snr had a sister three years his elder and she married a gent called Charles Turner, they had two children Mary and John.Mary married well to a chap called Maurice Suckling and in 1725/26 they had two children - Catherine and Maurice. In May 1749 Catherinemarried Edmund Nelson in, of all places, Bath in Somerset and they went on to have ten children between 1750 and 1767, can you see thiscoming? Child number six was born on 29 Sept 1758 and died on 21st Oct 1805 at Cape Trafalgar just off Spain and yes, you're right - he was called Horatio Nelson, that's Admiral Lord Nelson to you and me, the chap at the top of the column in London!
So the long and short of this story is that whilst it's proving near impossible to find images of people in St Bartholomew's their decendants make up for it. Just think the Great Great Grandson of Jane Crowch pictured on this page was Robert Walpole the first Prime Minister of England and her Great Great Great Great Great Grandson was Admiral Horatio Nelson.
We might only have found one face so far from St Bartholomew's but who would have thought that such famous sons of the country should be connected with that little church nestling in a corner of Hertfordshire.