Sir Henry Chauncy
born 12th April 1632 died 1719 buried in the Chancel of St Lawrence Ardeley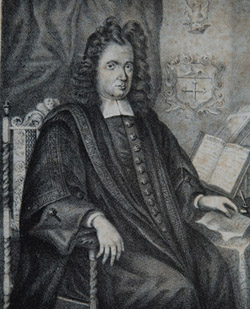 Born at Yardley Bury, his start to education was at Yardley vicarage school. He then went to Stevenage Grammar school until he was 14 and then onto Bishop's Stortford Grammar school for just one year. He then went to Gonville and Caius College, Cambridge, but left without taking a degree. He was then admitted to the Middle Temple, London, in 1650, and was called to the bar in 1656.
Chauncy founded Hertford's Blue Coat School, In 1681 he was knighted by Charles II. In the same year his father died and he inherited his estate. This eventually gave him the opportunity and financial resources to give up the legal profession and compile The Historical Antiquities of Hertfordshire.
It took him years to research and make ready for print but it was finally published as a single large volume in 1700, the 500 copies. The book was not completed to his original design and a private legal dispute prevented him from publishing in full, his original intention being to publish an appendix. The additional material was freely drawn upon by Nathaniel Salmon for his History of Hertfordshire, published in 1728.
Chauncy is known as Hertfordshire's greatest historian, and his Antiquities is regarded as the base for all works on Hertfordshire written before the 20th century. It has subsequently been drawn by Nathaniel Salmon, Robert Clutterbuck and J.E. Cussans.